Find the right Ezyloader for you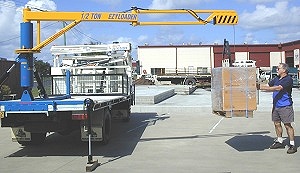 Have Grunt, will Travel
The PM model is a heavy duty vehicle-mounted Ezyloader, able to go wherever it's needed and handle loads up to a hefty 500kgs (1,100lbs). Even at full reach, notice how the boom levelling system keeps the lifter stable and safe. The Ezyloader PM has been used in the mining industry to yank the heavy claw-teeth out of giant dragline buckets. It's mighty tough work because the claw-teeth can get lodged in the buckets very tightly. Lifting machinery needs to be rugged and durable to survive in such a high stress job.
Maximum rated lifting capacity 500kgs [1,100lbs]
Unit weighs 270kgs (595lbs)
One person operation at all times. Allows one person to do the lifting work of two or three. The Ezyloader quickly pays for itself!
Operates on either 12 or 24 volt vehicle systems (please specify when ordering)
The Ezyloader has been designed so that common spare parts (if you should need any) are readily available across the counter in your country. As well, technical support is available from us by telephone or email
Can be freighted anywhere in the world. Comes with complete engineer's drawings and instructions, and all needed parts
Universal mounting anywhere on truck bed
Functions are controlled by the operator from the lifting cradle, using convenient grips
The split boom facilitates easy access around obstacles and in cluttered or confined spaces
Boom levelling is automatic at the push of a button. Even at full reach or on uneven terrain, the Ezyloader will level itself automatically for safe, efficient lifting