Find the right Ezyloader for you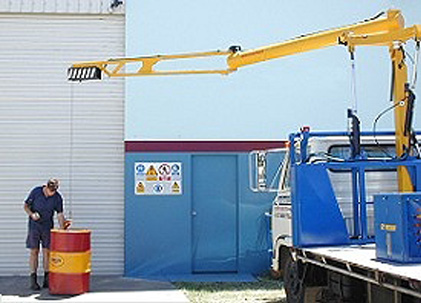 The power at your fingertips!
The Ezyloader 300MH, here fitted to a medium size truck, and using one of our Drum Lifter accessories to lift a heavy drum. It would be impractical and dangerous for one person to attempt to get this heavy load onto the truck on their own, but with the Ezyloader it is a safe, simple and quick operation. Notice the long 4.8m (16ft) reach of the self-levelling split boom. This powerful model can lift up to 300kgs (660lbs), which is nearly one-third of a ton.
Maximum rated lifting capacity 300kgs [660lbs]
Reaches to 4.8m (16ft) to pick up or distribute load (actual reach is governed by truck width)
Unit weighs 390kg (860lbs)
One person operation at all times. Allows one person to do the lifting work of two or three. The Ezyloader quickly pays for itself!
Operates on either 12 or 24 volt vehicle systems (please specify when ordering)
When fitted on the bed, the Ezyloader takes up a tiny 25cms (10 inches) of bed space only
Can be fitted at any suitable position on the truck bed or on rear edge of bed (can reach a towed trailer)
Functions are controlled by the operator from the lifting cradle, using convenient grips
The split boom facilitates easy access around obstacles and in cluttered or confined spaces
Boom levelling is automatic at the push of a button. Even at full reach or on uneven terrain, the Ezyloader will level itself automatically for safe, efficient lifting
Can be freighted anywhere in the world. Comes with complete engineer's drawings and instructions, all needed parts (for most vehicles) and an installation video showing a typical installation procedure
The Ezyloader has been designed so that common spare parts (if you should need any) are readily available across the counter in your country. As well, technical support is available from us by telephone or email