Find the right Ezyloader for you
Ezyloader FM (Floor Mount)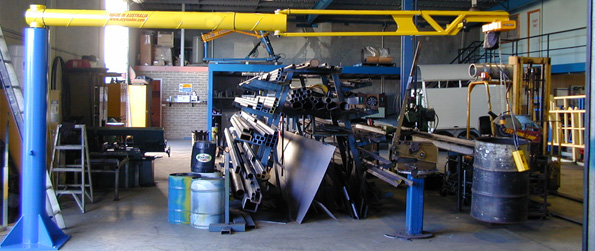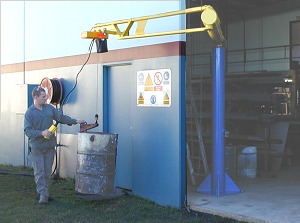 Need BIG lifting power?
The most powerful Ezyloader of all, able to lift loads from 250kgs (550lbs) to 1,000kgs (1 tonne or 2,200lbs) with a reach up to 5m (16ft). The Ezyloader FM is built to order so you can specify the lifting capacity and reach. Ideal for loading bays, warehouses, workshops and factories, or other positions where a solid concrete mounting surface is available. Like all Ezyloaders, the unique split boom makes this machine a versatile performer.
For example, would you believe it can actually lift loads around corners? Seeing is believing.
Around The Corner? No Problems!
Mission Impossible?
Here's a task that would be beyond most other types of loader. This heavy drum was sitting outside the building, around a corner, and needed to be lifted and moved inside. The Ezyloader's unique split boom enables it to reach around corners to collect and deposit payloads! This gives it great flexibility in tight, cluttered and confined spaces.
Maximum rated lifting capacity 1,000kgs [2,200lbs]
Variable, depending on your specifications
One person operation at all times
DC or AC power configurations to suit local power supply conditions
The Ezyloader has been designed so that common spare parts (if you should need any) are readily available across the counter in your country. As well, technical support is available from us by telephone or email
Solid concrete surface (will be bolted into floor)
Universal mounting anywhere on truck bed
Functions are controlled by the operator from the lifting cradle, using convenient grips
The split boom facilitates easy access around obstacles and in cluttered or confined spaces
Boom levelling is automatic at the push of a button
Can be freighted anywhere in the world. Comes with complete engineer's drawings and instructions, and all needed parts